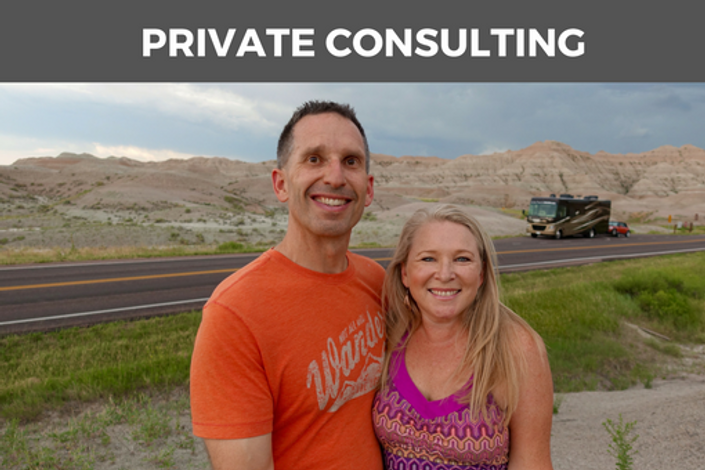 Private Consulting Session
One on One Consulting with RV Success School Course Instructors
The RV Success School courses are designed to be self guided and provide comprehensive information to help guide you to choosing the right RV for your needs and design your own RV lifestyle so you can hit the road with success. But, we also recognize that some people will have additional considerations or concerns and may want individual, personalized advice for their unique situation.
That is why we offer a standalone option for One on One Consulting with the course creators, Marc and Julie Bennett. You can book your your One Hour session at a time convenient for you to support you throughout the planning, preparation and purchase process of your RV lifestyle.
Before we hit the road in our RV, we spent hundreds and hundreds of hours researching, planning and shopping before successfully making our purchase. Since that time, we have lived and breathed the lifestyle as full-time RVers and continued to ask questions and learn from other RVers and industry experts along the way. This is our passion and we're not afraid to show it or share it.
Our research has helped us avoid many of the pains and pitfalls experienced by so many RVers, especially those venturing into the world of extended RV travel. Yes, it is undeniably an amazing lifestyle, but rushing the process or making the wrong decisions can literally cost you thousands, if not tens of thousands of dollars. We aren't here to offer a quick fix or a magic pill, but to provide the inspiration, resources and guidance to get you to where you want to go, the best way possible.
We have already helped hundreds of people save thousands of dollars through the valuable content, tips and education we have shared on our RVLove website and YouTube videos. And, we have personally spent many hours helping others avoid mistakes and supporting their transition into the RV lifestyle. That's why we created Rv Success School – so we can help thousands of others do the same.
We're here to guide you to asking the right questions and ultimately, finding the right answers for you – and not simply project our own opinions, preferences and choices – as you will often find in many forums and social media pages.
Finally, we both have career backgrounds helping others transform their lives in positive ways and as thriving full-timer RVers, we have learned how to navigate each step of the way and come out smiling. The transition to RV living can be just as much of an emotional journey as it is a geographical one, which is something almost nobody else really talks about. Yet if you don't discuss and prepare for all elements of the process, you increase the chances of it not working out in the long term.
We look forward to helping You Succeed!
Your Instructor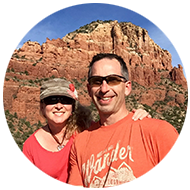 Marc and Julie Bennett are the best selling authors of Living The RV Life: Your Ultimate Guide To Life On The Road, full-time RVers, bloggers, YouTubers and and the creators of RV Success School. They have been living, working and traveling full-time from their motorhome since 2014 while exploring North America and the world. So far, they have traveled to all 50 USA states, driven into Canada, walked across the border into Mexico and even visited Australia.
Their mission is to help others hit the road and thrive through sharing high quality, educational and practical content that guides them on their own journey to researching, RV shopping and embarking on their own RV lifestyle. Their helpful articles and personal stories are regularly featured in RV and lifestyle media. Marc and Julie are best known for their positive, inspiring and can-do attitudes, via their blog and YouTube channel, which has had millions of views and inspired thousands to live and love the RV life. You can learn more about Marc and Julie at their website www.RVLove.com, YouTube Channel RVLoveTV and connect with them socially on Facebook, Instagram, Twitter and Pinterest.
Frequently Asked Questions
How do I schedule my call?
After you enroll in this course, we will send you an email with an invitation to our calendar so that you can book time with us at a time that is convenient for you.
RV Success School is proud to support the work of the National Park Foundation, the official charity of America's national parks. As RVers, we have the opportunity to visit and enjoy these incredible places more often than most, so we love supporting them.